The demand for the Virtual Schooling Grant has been dramatic. Despite our best efforts to stretch the Virtual Schooling Grant to as many families as possible, we are now up against our funding limit. We will aggressively seek additional funds to continue this support, but for now, we are not accepting future applications.
Air Force Aid Society recognizes many Air Force and Space Force families have faced extra expenses resulting from school closings due to the COVID-19 pandemic.
If you are an Air Force or Space Force family experiencing financial hardship and facing difficulty paying the additional costs associated with purchasing home school supplies and equipment for the fall 2020 academic year, we can help!
For a limited time, we are offering a one-time $250 grant to eligible Air Force and Space Force families with a financial need to help with virtual schooling costs for school supplies of their dependents in grades K through 12.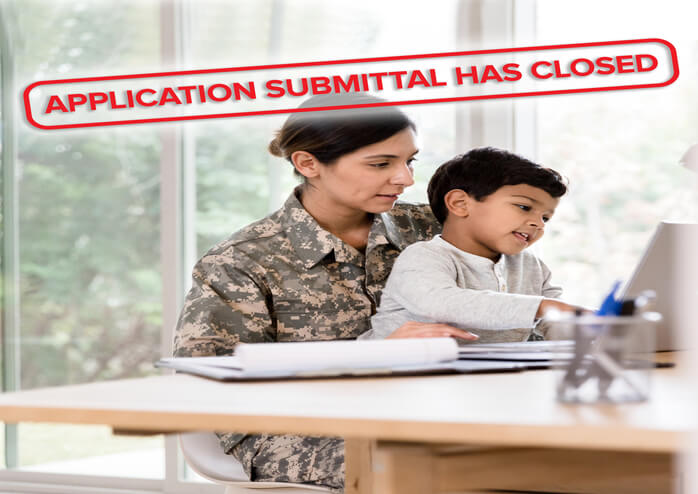 Eligibility
Active Duty Airmen, AF Reserve (AFR) and Air National Guard (ANG) on continuous Active Duty orders for more than 15 days under Title 10, Air National Guard AGR (Full-Time, Title 32, 502(f) only) and Retirees and Widow(er)s.
WITH
Dependent(s) listed in DEERS in grade K-12
How To Apply
To access application CLICK HERE – Virtual Schooling Grant applications will be available Sept 1, 2020 at 8am EST
Eligible AFR, ANG and ANG AGR must attach a copy of active duty order.
Spouse applying must attach a copy of POA.
The Application Process
Applications will be submitted to Air Force Aid Society HQ for review.
Applications must be complete and all documents received at AFAS HQ before request can be approved.
Once approved, the application will be forwarded to an Airman's local Airman & Family Readiness Center. The applicant will be contacted by the Center to schedule an appointment.
Approved applicants who are not within 50 miles of an AF installation will have assistance completed by HQ AFAS and a check will be mailed to the applicant's home address.
For questions, contact your local Airman & Family Readiness Center, send e-mail to or call 703-972-2650, option #6.
If you are having problems with the member portal or need a password reset, contact the IT Dept. at 703-972-2650, option #5.