DONATE TO HELP AIRMEN AFFECTED BY HURRICANE MICHAEL
During catastrophic natural events, the Air Force Aid Society can and does help Airmen and their families.  Emergency Assistance is always job #1 for the Society, and this 24/7 support remains available to eligible service members 365 days a year, even during times of disaster.
We need your support to be able to help those in need. During this season of giving, please consider donating to AFAS to Help those in need, specifically with AFAS Hurricane Relief Assistance. Make a targeted gift today. For every dollar donated, the Air Force Aid Society donates three dollars to those in need.
Here are a few examples of how the Air Force Aid Society has helped those affected by Hurricane Michael. If you would like to make a donation also to the Air Force General Fund, Please look at our Ways to Give page for more donation opportunities.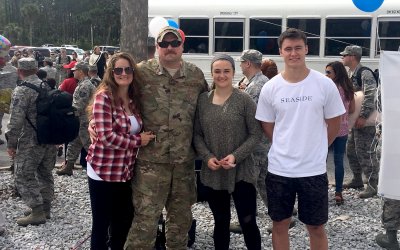 The Lingenfelters have never been more grateful for their Air Force family. "Without you, we would not have found the hope to forge ahead and keep pushing to recovery." Paying it forward, MSgt Lingenfelter says he and his family have chosen to stay in the area to support their military and local community, positive that both Tyndall and the community will recover.
read more