AFAS helps a former Airman now spouse pursue a civilian career.
With a love for her country and the liberties we are afforded because of the men and women who serve to protect us, Callie Smith joined the U.S. Air Force in 2015. After three years of service, Callie separated as a Senior Airman. Her husband, Senior Airman Joshua Smith is still serving in active duty. Callie appreciated the many people she met and that she was forced to live outside of her comfort zone as an enlisted Airman.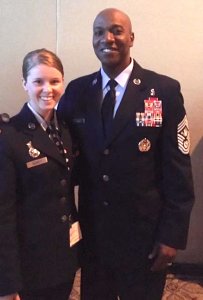 When Callie separated from the USAF, she wanted to pursue medicine and looked at the Emergency Medical Technicians (EMT) program. Not wanting to add a financial strain to the family while living off of her husband's income, Callie wasn't sure how she would pay for the course. Then one day her husband called to tell her that the Air Force Aid Society (AFAS) was offering to pay for 15 spouses to go through the EMT course she was considering. Callie immediately called the Airman and Family Readiness Center and applied just in time. She was the last person accepted.
The assistance from AFAS motivated Callie to work and study hard. "I knew failure wasn't an option. I didn't want to take the opportunity from someone else and not come out of the course as a certified EMT," Callie explained. "My only job at the time was to pass the course, and I did!"
While going through the course, Callie decided she wanted to become a paramedic. She passed the National Registry test on her first try, allowing her to apply for paramedic school. "This opportunity opened so many doors for me, which will provide my family with a better life," says Callie.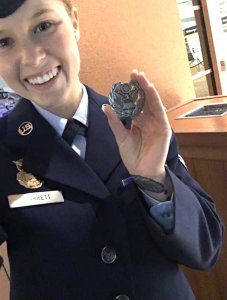 Callie is "eternally grateful" for AFAS and the opportunities it provides to Airmen and their families. "They allow civilian spouses and spouses who have recently separated the opportunity to start a career and not have to worry about the financial hardship that comes along with it."
It is through the donations of generous individuals that allowed Callie and many others to start a career without the financial burden that often comes with education. "You have helped my family tremendously," she says, "and a simple thank you will never be enough."
Callie was just accepted into paramedic school, moving one step closer to achieving her goal.
The Air Force Aid Society is the official charity of the U.S. Air Force and has been meeting the unique needs of Airmen and their families since 1942. AFAS works to support and enhance the USAF mission by providing emergency financial assistance, educational support, and community programs. Over the last decade, AFAS has provided more than $180 million in direct support to Air Force families. Visit www.afas.org to learn more, apply for assistance or make a donat