Continuing education from AFAS allows an Airman's wife to jump-start a new business
For Master Sergeant David Van Den Berg, joining the U.S. Air Force (USAF) out of high school was a once-in-a-lifetime opportunity for him to travel the world. Over the years, he and his wife, Liz have found so much more.
MSgt Van Den Berg lost his mother at a very young age.  "Whatever was missing for David at home, connection, belonging, safety, he has found in the Air Force," says Liz. "He found his true family."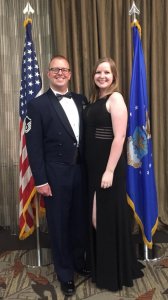 Now almost 15 years later, Liz agrees she loves nothing more than being a part of the USAF family and a military spouse.
When the Van Den Bergs welcomed their baby, David "D3" Randall, Liz left her special education teaching job to be a stay-at-home mom to D3. Grateful for the chance to be at home with their son, Liz also had a desire to keep learning new things.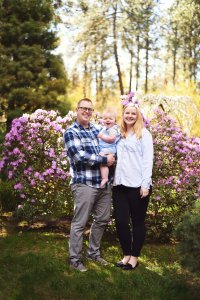 It was a Facebook post about a free LEAN class from the Airman and Family Readiness Center at Fairchild Air Force Base in Spokane, WA, that piqued Liz's curiosity. The class was sponsored by the Air Force Aid Society (AFAS) as a way to offer continuing education for Airmen and their families.
"The LEAN course afforded me the opportunity to take small motherhood breaks and reconnect with my passion of learning," remarks Liz. "The instructor even tailored the course on process improvements to many mothers taking it, and applied concepts of making a factory function efficiently to making their homes and schedules more efficient."
The course didn't just teach Liz how to do things; it gave her more confidence in her abilities, leading her to start her own consulting business as a private contractor. It wasn't long before the Spokane Building Owners and Managers Association hired Liz as their association executive. Handling their finances, events, membership, and marketing, Liz is able to work from home to be with D3 while also providing financially for her family.
The Air Force has given the Van Den Berg's many things – from family to a sense of purpose, and now, a new career thanks to the Society.
For all of this, the Van Den Bergs are "forever grateful" to both the Air Force and AFAS.
The Air Force Aid Society is the official charity of the U.S. Air Force and has been meeting the unique needs of Airmen and their families since 1942. AFAS works to support and enhance the USAF mission by providing emergency financial assistance, educational support, and community programs. Over the last decade, AFAS has provided more than $180 million in direct support to Air Force families. Visit www.afas.org to learn more, apply for assistance or make a donation.