Emergencies happen to everyone, and AFAS is there to help
Like so many other Airmen, Technical Sergeant Hank Hale has had the opportunity to travel the world since joining the U.S. Air Force 11 years ago. He's met people who are now like family to him, knowing they would help him out of a jam if needed. This proved true when TSgt Hale needed help not long ago.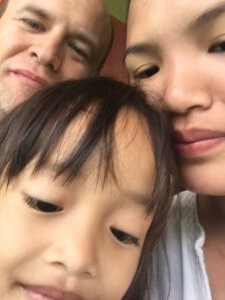 TSgt Hale and his wife Rowena were on leave in the Philippines visiting Rowena's family, including their five-year-old daughter, Angel, when disaster struck. The Hales' house at Grand Fork Air Force Base in North Dakota flooded. The flooding caused over $4,000 in damages. On top of the unplanned expense, TSgt Hale and his wife already had a second trip to the Philippines planned. Angel was born in the Philippines, and the Hales were in the process of applying for a passport for her to come to the U.S. The second trip was needed to continue the application process.
Given only two months to pay for all of the flood damage, TSgt Hale remembered hearing about the Air Force Aid Society while at his first duty base in California. He went to the Airman & Family Readiness Center to discuss financial assistance – he left with a no-interest Standard Assist loan to help pay for the damages.
"The assistance relieved so much stress from the financial issues," TSgt Hale recalls. "I thought I was going to have to either take out a bank loan and pay a lot of money in interest or make two huge payments at once. AFAS took away my personal problems." He could focus on his job as an Airman, and on bringing his daughter home, instead of worrying about his finances.
What does TSgt Hale think all Airmen and their families should know about AFAS? "There are no strings attached," he says of the assistance. "Life happens, and it's ok to ask for help."
Having traveled to many places during his Air Force career, TSgt Hale has seen people who don't have enough food or necessities. It's made him appreciate what he has and how well he's taken care of by the USAF. "I feel really secure being in the military with all of the gracious people I've met over my career."
The Air Force Aid Society is the official charity of the U.S. Air Force and has been meeting the unique needs of Airmen and their families since 1942. AFAS works to support and enhance the USAF mission by providing emergency financial assistance, educational support, and community programs. Over the last decade, AFAS has provided nearly $165 million in direct support via more than 450,000 assists. Visit afas.org to learn more, apply for assistance or make a donation.