How AFAS helped one Airman recover from Hurricane Michael
Hurricane Michael was the strongest hurricane to ever hit the Florida Panhandle. It devastated Tyndall Air Force Base in Panama City, Florida. Master Sergeant Kelly Davis watched it destroy most of the air force base – leaving virtually nothing in its path untouched when it made landfall in October 2018.
Following in her mother's footsteps, MSgt Davis has spent 28 years between the U.S. Air Force  (USAF) and the California Air National Guard. Her service to the USAF led her to Tyndall AFB, where, in 2018, she would eventually evacuate with her work laptop, one uniform, two changes of clothes and her two dogs.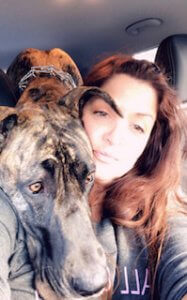 When she was able to return to work, MSgt Davis temporarily relocated to Destin, Florida where she found herself having to pay an existing mortgage in addition to short-term rent for housing. To help with her most immediate needs, MSgt Davis applied and received a $750 stabilizing grant as part of $6.5 million that the Air Force Aid Society (AFAS) provided in hurricane relief to assist Airmen impacted by Hurricane Michael.
The grant allowed MSgt Davis to buy clothes, groceries, food for her dogs and the extra gas she needed to pay for her new three-hour roundtrip commute. "Because I had to evacuate, I don't think I could have managed the extra expense of the three-hour commute without this help," she said. "I am very grateful."
When she was no longer able to continue the long commute and it was safe to return to Panama City, MSgt Davis moved back into her severely damaged home before the repairs were complete. She cleaned all of the remaining debris herself, filling 50 contractor bags. She scrubbed the floors; she lived without ceilings, air conditioning and heat for almost three months. After months of clean up, her home is finally in a good living condition, and her dogs seem happy to have their yard back where they can run.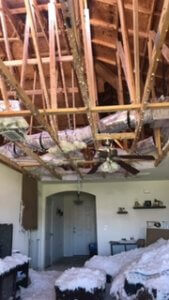 "Things are coming back together, and I am really blessed. Most of the houses in my neighborhood are still not livable," MSgt Davis explains. Some of her neighbors have had to pay for condos in nearby cities or rent RVs parked alongside their destroyed houses. "There are no apartments to rent, and about half of our active duty Airmen have taken a humanitarian reassignment because they have no place to live," MSgt Davis explains of the continued impact from the hurricane.
Driving through the destruction every day is a constant reminder of the hurricane. "It still looks like a war zone," MSgt Davis describes.
Having previously received assistance from AFAS after her father died, MSgt Davis knows the importance of the Society's mission, and she's thankful for those who donate. She's also an annual donor because she has seen first-hand the impact of support AFAS provides to help an Airman through a difficult time.
Standing behind its mission of Airmen Helping Airmen, the Society has proudly helped thousands of Airmen recover following the aftermath Hurricane Michael.
The Air Force Aid Society is the official charity of the U.S. Air Force and has been meeting the unique needs of Airmen and their families since 1942. AFAS works to support and enhance the USAF mission by providing emergency financial assistance, educational support, and community programs. Over the last decade, AFAS has provided nearly $180 million in direct support via approximately 500,000 assists. Visit afas.org to learn more, apply for assistance or make a donation.