AFAS was there to help when Hurricane Michael threw one family a huge curveball.
Like other Airmen, Technical Sergeant LaLi Brown joined the U.S. Air Force to broaden her world beyond her small hometown. Since enlisting, TSgt Brown has received much more from the Air Force than she could have asked for during her 17 years of service, including gaining a purpose in life that she finds difficult to put into words.
In October 2018, TSgt Brown was stationed at Tyndall Air Force Base in Florida when Hurricane Michael devastated the area. It was ranked as the third-most intense hurricane to make landfall in the U.S., and it damaged nearly every structure at Tyndall including thousands of houses in the surrounding area.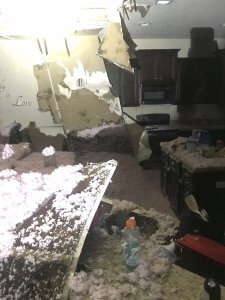 The stress levels after Hurricane Michael were high for TSgt Brown. Her husband was unable to evacuate with his family to Ft. Walton, due to his job as a county law enforcement officer, and they had to figure out how to rebuild their home in the wake of Hurricane Michael. Not to mention, TSgt Brown was expecting their fourth child. The Browns were being thrown curveballs that they weren't sure how to catch, including an insurance deductible of almost $8,000 to meet before construction could begin on their home.
After seeing a post on Facebook from the Air Force Aid Society (AFAS), TSgt Brown applied for assistance to help meet the cost of the deductible. TSgt Brown received a $1,500 stabilizing grant as part of $6.5 million in funds AFAS provided to Airmen impacted by Hurricane Michael.
The grant TSgt Brown received from AFAS helped her family begin the process of rebuilding their home, and it eased a huge burden for her. "It helped me focus on my family to make sure they were taken care of during these unforeseen circumstances," TSgt Brown says.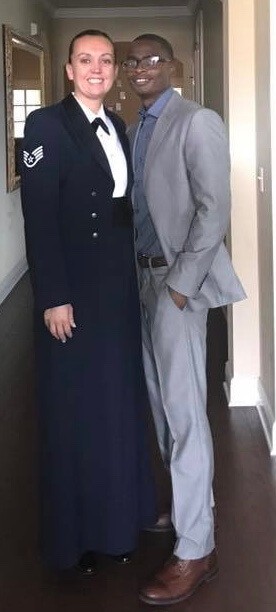 Five months after the hurricane, things are moving forward for the Brown family. TSgt Brown and her husband welcomed their new baby boy in February. They are back in their home while repairs are still underway. TSgt Brown is thankful for the assistance from AFAS. "Life can throw you curveballs," she states, "and it is nice to know there are organizations like AFAS and generous individuals that will help when life happens and you need help."
One thing TSgt Brown has learned during her tenure as an Airman is that the Air Force is a family.
Because the Society is "there if you need them," TSgt Brown urges other Airmen not to "take on the world by yourself." She adds, "Being a part of the Air Force family you have comfort knowing you have a support system to help you when you need it most."
The Air Force Aid Society is the official charity of the U.S. Air Force and has been meeting the unique needs of Airmen and their families since 1942. AFAS works to support and enhance the USAF mission by providing emergency financial assistance, educational support, and community programs. Over the last decade, AFAS has provided more than $180 million in direct support to Air Force families. Visit afas.org to learn more, apply for assistance or make a donation.