AFAS helps a young Airman honor his grandfather's dying wish with a final visit home
Airman First Class Cody Olwine enlisted in the U.S. Air Force (USAF) because he wanted greater opportunity than he felt his small Indiana hometown could provide for him. With that opportunity, he also found a greater sense of family and community. "The Air Force is so much more than just a family. It's having co-workers that care and genuinely try to help out in all aspects of life," he shares.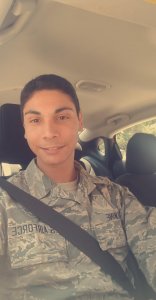 A1C Olwine never imagined he would need help from his Air Force family so soon after enlisting, but life can sometimes throw a one-two-three punch. "I was having a rough time during Tech School at Sheppard AFB – one of the roughest times I've ever had to weather," he confides. "I was struggling in my classes, in the middle of ending a two-year relationship, and worse still, my grandfather was dying of cancer."
Before leaving for his Basic Military Training, A1C Olwine's grandfather told him he wanted to see him in his Blues before dying. That parting wish stuck with A1C Olwine and became the driving force pushing him to keep going despite the struggles, even though he was at times unsure of the path to take.
A1C Olwine recalls, "The cancer was getting worse, I didn't have much money and I wasn't sure how I'd be able to make it home to see my grandfather for what would most likely be the final time."
He mentioned his situation to a First Sergeant in passing, not knowing that brief conversation would lead him to the help and support he needed. That First Sergeant told A1C Olwine about Air Force Aid Society and the assistance they provide to Airmen at all levels of service for a variety of emergency needs. After a visit to the Airman & Family Readiness Center to discuss his needs with an AFAS caseworker, A1C Olwine had a plane ticket home for the weekend. What's more, the First Sergeant who helped connect him with AFAS let him borrow a Blues bag.
A1C Olwine was headed home to make his grandfather's wish come true. "Once I arrived at the airport, I changed into the Blues in the bathroom before heading out to meet my family," recalls A1C Olwine. "Even as weak as cancer had left my grandfather, he made the hour-long trip to pick me up. I could see how exhausted he was, but I could also see how proud and happy seeing me in those Blues made him at that moment."
A1C Olwine had a great weekend visit with his grandfather before returning to his Air Force family at Sheppard. A few months later, A1C Olwine's grandfather lost the battle with cancer. He is forever grateful for that last visit home and even more proud than ever to be an Airman.
"AFAS fully supported me," he shares. "They gave me the chance to see my grandfather one last time."
If A1C Olwine could tell other Airmen about his experience, he would encourage them to "See your family when they need you because things can happen at any minute. AFAS is there to help Airmen during times of family crisis and emergencies. Ask for the help, it's there for you."
The Air Force Aid Society is the official charity of the U.S. Air Force and has been meeting the unique needs of Airmen and their families since 1942. AFAS works to support and enhance the USAF mission by providing emergency financial assistance, educational support, and community programs. Over the last decade, AFAS has provided nearly $180 million in direct support via approximately 500,000 assists. Visit afas.org to learn more, apply for assistance or make a donation.